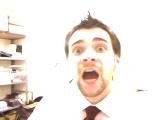 No, this page is not about writing paranormal fiction. It's about you hiring me to write a book for you.
Ghostwriting is a subjective process. It requires time, good preparation, and a strong partnership. If you'd like to discuss hiring me to ghostwrite a book of any sort for you, please contact me at 1BenWolf@gmail.com.
Together we can bring your book into the light and make your dreams a reality.
Need an editor instead? Check out my editing services page for information on how I can make your story shine. Or you can book me for your next event as a conference speaker and teacher.