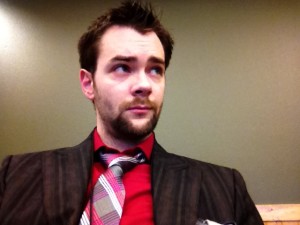 Who is Ben Wolf?
I'm a fun-loving, energetic nerd who loves playing volleyball almost as much as I love watching sci-fi movies. I play far too many video games, even though I quit playing console games for good in 2004, 2008, 2010, 2011, and 2012, and I love to sword-fight.
Having lived in Wisconsin for most of my life (with the exception of four years in college in Minneapolis) I'm acclimated to cold weather, but I still don't enjoy it. I've been to Australia, Spain, France, Mexico, the Canary Islands, and Florida. Thanks to about five years of high-end retail under my belt, I have an expansive wardrobe of really nice dress clothes that I barely ever wear anymore.
I have recurring dreams of being chased by dinosaurs in Jurassic Park and by secret service agents through hotels and movies theaters. The thought of drowning or being eaten/killed/dismembered by something in the ocean or a big lake frightens me, as do most spiders and insects. I wish I could be a cage fighter sometimes, but then I remember how much that would hurt my face.
I love beauty in all of its forms, but I hate long road trips, even if the scenery is awesome. I'd much rather write a novel than pay attention to what's happening around me, but I prefer to be the center of attention whenever possible. I'm equally comfortable in a crowd as I am by myself in a moment of solitude.
I used to be addicted to Mountain Dew, but then I gave up caffeine (at least three times) and subsequently lost 30 pounds that I didn't know I had room to lose. I enjoy wearing dark clothing, but recognize that splashes of color can really make or break an outfit. If I won the lottery I'd probably stop buying all these blasted lottery tickets. I leg-pressed 1100 pounds once. Well, ten reps in one occasion.
If I eat something salty, I like to have something sweet shortly thereafter. I'm an Apple guy–sorry, PC users. I vote my conscience and regret the shape our country is in right now, but I'm too lazy to do much to change it beyond voting and posting provocative statements and articles on my Facebook account.
I don't have to cheat to win, but if I don't win, I'm probably not enjoying the game. I'm an outliner/Snowflaker hybrid, though I pantsed my way through my first two novels and do not intend to ever do that again. I don't always drink alcohol, but when I do, I prefer if someone else pays for it.
I almost never carry cash on me, so mugging me is really not worth your time. In a gunfight, I'd probably run out of bullets first, but at least one of them would hit my enemy. I know because I shot Spiderman right between his eyes from 65 yards with no scope. Twice. That said, I prefer sword-fights to gunfights in movies.
I am harassed daily by ideas for stories, by characters who want a story of their own, and by the misery of everyday life's demands. I'm typically good at balancing things in a metaphorical sense, less so in a physical sense. I love music but never got good enough to do much with it on my own. I appreciate art but sometimes it just doesn't make any sense to me. I ought to read more books than I do, but I also ought to write more books than I have so far.
The Origin Story
Born in 1986 on the day the space shuttle Challenger blew up (no, I'm not a reincarnated astronaut, despite what my great-grandmother may have told you), I grew up in southeast Wisconsin in a Christian home with two loving parents, a younger sister, and four pets.
In my early school years I was tested for ADD but was never diagnosed with it. To this day, I still wonder if I
In 7th grade I saw the movie Congo on TV. It was so bad that I wrote a parody of it that was set in Australia and featured murderous kangaroos instead of gorillas. So began my writing career.
Since then I've written six novels and have multiple other projects in the works. These other projects span a variety of genres but each of them contains a common element: significant action/adventure content. I was formerly represented by a literary agent but I'm currently seeking new representation.
I've been frustrated by improper grammar, misspellings, and punctuation errors since I learned the proper way to use the English language. That bitter resentment toward those who dare to impugn the honor of our glorious language has since combined with a significant amount of study on the craft of writing, and now I get paid to make sure my clients wield their words effectively.
As someone who knows how hectic life can get, I founded Splickety Publishing Group in 2011 to meet the needs of busy folks like me: people who appreciate great fiction but don't have a lot of time to read.
I'm also a capable speaker and teacher and would love to present something at your next conference or event.
The sum total of all of my parts is as follows: I'm a driven, strategic, crafty troublemaker with a big mouth and an even bigger personality, but in spite all of that, I'm one of the best friends you could ever hope to have. And I need a publishing contract. Or two. Or several.